Harmonize dominates August top album chart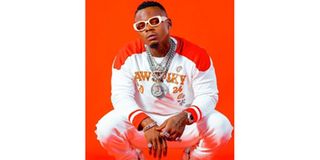 What you need to know:
'Made for Us' and 'High School' solidify his current status as a key figure in the music industry.
Konde Music Worldwide CEO Rajab Abdul Kahali, alias Harmonize, dominates the Boomplay charts of the top ten albums from Tanzania, which were released on Wednesday, September 6, 2023.
The 'Single Again' hitmaker has managed to have his two albums on the charts. A few days after his song 'Single Again, it was named in the top 20 'Viral Hits Africa' on Spotify.
The two albums include 'Made for Us', which debuted at number one in the Top 10 chart. Some of the songs in the album are 'Amelowa' and 'Deka, which are among the most successful tracks in Harmonize's 14-track album, released last year in October.
His other album, 'High School', was released two years ago in November and is now ranked sixth on the Boomplay charts.
According to the continent's music streaming platform, the ranking is based on the number of streams on the platform in the nation for the month of August 2023.
Other Tanzania's reowned artistes are Mbosso, Alikiba, Rayvanny and Barnaba Classic's.