Hunt for Africa's next WWE superstar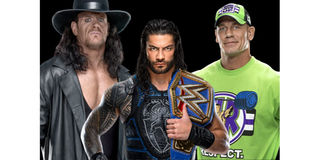 Are you the next John Cena? Are you the next Roman Reigns or the Undertaker? Will you follow in the footsteps of The Rock? Well, African fans of the World Wrestling Entertainment (WWE) are set to find out, thanks to MultiChoice's continued embarkation on an exciting talent hunt.
Those familiar with WWE know that it is one of the most riveting and watched sporting programs in the world, with supreme athletes, high drama, and explosive storylines. Now you can be part of the adrenaline in the ring with world-renowned superstars.
This rare opportunity comes as WWE is looking for an African superstar to join their organization and be part of history.
WWE, in conjunction with SuperSport, launched a continent-wide talent search to find this African hero in November 2022, with entries still open and set to close this year on April 30, 2023.
"Tanzania has incredible potential to serve as the home to the next big WWE superstar," says Jacqueline Woiso, MultiChoice Tanzania Managing Director. "We encourage hopefuls who think they have what it takes to enter and make their dreams come true." Submit your video via supersport.com/wweafricasuperstar.
The call is open to all residents of African countries. Applicants must be between the ages of 20 and 39.
Applicants will be shortlisted and notified in May 2023.
The successful applicants will be invited to a tryout in Lagos, Nigeria, which will take place in June 2023. Tryouts will take a maximum of three days, and all costs (travel, visa charges, accommodation, and meals) will be covered. A select number of tryout participants could then win an all-expenses-paid trip to a tryout organized by the WWE at a later date to be confirmed.
Following that, a full-time WWE developmental contract may be offered to the top-performing participants, who would then begin their new career at the world-class WWE Performance Center in Orlando, Florida, USA.