Prime
The vibrant fusion of tradition and tempo in 'Sauti za Kumoyo' EP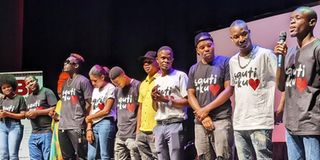 Singeli, known for its distinctive tone, tempo, and intensity, continues to garner global attention, particularly among the youth in Tanzania.
In both independent and mainstream forms, it has captured the hearts of young Tanzanians, surpassing the popularity of internationally renowned artistes like Drake and Kendrick Lamar.
However, the genre is undergoing a transformation as it merges with traditional music to preserve its roots and originality.
At the center of this exciting fusion is the EP "Sauti za Kumoyo," a 21-minute, 39-second musical journey featuring five tracks that are considered works of art.
These tracks paint a vivid picture of Tanzania's spirit and essence, transporting listeners to various locations, each with its unique flavour.
Each song takes you to a different location with a distinctive flavour, such as Ugogoni, Makonde, Pwani, and Dar es Salaam, where the genre of Mchiriku breathed life into Singeli music.
In "Barita," the Gogo tribe's term for 'beautiful lady,' featuring Man Fongo and Nyati Group, the Gogo sound resonates, offering a unique blend of beats that beckon both dance and head nods.
Meanwhile, 'Mapenzi hayana dawa,' a collaborative effort with Kinata MC and Mtwara traditional music group Teleza Arts Group, takes listeners on an entirely new adventure.
"Unatetemeka" by Seneta Kilaka and "Ngoma Uswazi" from Pwani add further dimensions to this musical mosaic.
The fourth track, 'Naumia,' crafted in Dar es Salaam in collaboration with Mchiriku artistes such as Wazawa Band and Wamoto, transports the listener back in time, reminiscent of the buzz surrounding Segere and Mchiriku-inspired songs like "Mbereko" and "Domo la Upawa."
The EP's culmination arrives with 'Collaboration,' a track featuring all the talented artistes who contributed to this musical masterpiece.
Kennedy Joseph, widely known as "Eyoo Kenny," effortlessly bridges traditional and Singeli music, creating a harmonious texture that begs the question of why this fusion didn't occur sooner.
The "Sauti za Kumoyo" initiative, led by the Uswazi Born Talent organization and translating to "Sound of the Heart" in Swahili, is dedicated to nurturing street talent, preserving the roots of Singeli music, and integrating traditional songs with Singeli.
Supported by Feel Free Grants under Nafasi Art Space and sponsored by the Swiss and Norwegian Embassies in Tanzania, this project aims to safeguard the genre's authenticity.
Meneja Kandoro, the project manager of Uswazi Born Talent, emphasizes the importance of preserving Singeli's origins.
He says, "The main goal is to keep the genre's origin without copying and chopping from other songs outside the country. By doing this, we will make Singeli remain the symbol of Tanzania."
Meneja Kandoro further reveals plans for the upcoming Sauti za Kumoyo festival, set to unite Singeli artistes and tradition while celebrating their musical heritage.
"We are now on a media tour, but we are expected to bring the Sauti za Kumoyo festival, which will bring together Singeli artiste and tradition to celebrate the fusion while keeping our music's origin," he shares.
This musical odyssey took the project through various regions, including Dodoma, Mtwara, Pwani, and Dar es Salaam.
Notably, artistes such as Man Fongo, Kinata MC, and Seneta Kilaka effortlessly collaborated with traditional artistes, including Nyati group from Dodoma, Teleza Arts group from Mtwara, Ngoma Uswazi from Pwani, and Wazawa band and Wamoto from Dar es Salaam.
Jobu Mtachi, a Nyati music group teacher, expressed his joy at reintroducing the youth to the music of their ancestors.
He says, "All I need is for this new generation to be able to enjoy the music that their ancestors used to hear so that they can blend in and enjoy the flavour as it was back then."
The project is the success of Feel Free Grants, which is under Nafasi Art Space and sponsored by the Swiss and Norwegian Embassies in Tanzania.
With mutating loops infused with punk energy, Singeli has taken center stage in Tanzania's radios, dance floors, block parties, and festivals.
Its distinctive tone, tempo, and intensity continue to captivate audiences, both locally and globally, ensuring that Singeli remains a symbol of Tanzanian musical heritage.