Prime
Clock ticking on Tanzania's coal business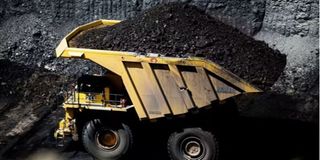 Dar es Salaam. Tanzania has less than seven years to capitalise on the world's present high demand for coal before its usage is prohibited globally.
This comes as the United Nations (UN) reiterated its commitment to end coal usage by 2030 for Organisation for Economic Cooperation and Development (OECD) countries and by 2040 for the rest of the world.
Speaking on Tuesday, during the ongoing 78th session of the UN General Assembly (UNGA), the secretary general, Mr António Guterres, said the actions are imminent for the globe to reach its net zero target.
 "To stand a fighting chance of limiting global temperature rise, we must phase out coal, oil, and gas in a fair and equitable way—and massively boost renewables," Mr Guterres told leaders at the UNGA session.
For the Tanzanian mineral markets, these climate interventions come at a cost, as the country has been generating a lot of revenue from its coal business.
Recent data from the Bank of Tanzania (BoT) shows that the country's coal exports increased to $220.7 million in the year to July 2023 from $67.3 million a year earlier.
In its August Monthly Economic Review (MER) report, the central bank said: "Due to growing demand in the wake of supply shortages, following the war in Ukraine," Tight with the deadline while sitting in an abundance of coal resources, late last year, the then Mining minister, Dr Dotto Biteko, directed the Mineral Commission to review licences of coal miners and give opportunities to those with capital for fast-paced development.
Dr Biteko, who has since been moved to the Energy docket and promoted to Deputy Prime Minister, was significant in not leaving sites unexploited considering the global shift to green energy technology.
Meanwhile, at the UNGA session, the head of the UN also suggested that solutions to climate change challenges must start with countries in premier forums such as the G20 and the OECD countries.
 "G20 countries are responsible for 80 percent of greenhouse emissions. They must lead," Mr Guterres said.
He also mentioned other initiatives, including the Climate Solidarity Pact, in which all big emitters are asked to make extra efforts to cut emissions, and wealthier countries support emerging economies with finance and technology to do so.
"For example, Africa has 60 percent of the world's solar capacity but just 2 percent of renewable investments. I have also put forward an acceleration agenda to supercharge these efforts," he said.
This year's UNGA is attended by nearly 140 people from around the world to discuss pressing global issues, and Tanzania is represented by Vice President Philip Mpango.
The general debate is being held under the theme "Rebuilding trust and reigniting global solidarity: Accelerating action on the 2030 Agenda and its Sustainable Development Goals towards peace, prosperity, progress, and sustainability for all".
 Speaking to The Citizen director of the Institute of Resource Assessment at the University of Dar es Salaam, Prof Pius Yanda said there should be a striking balance between economic development and climate change mitigation.
He said this is significant considering most African countries are paying the price while contributing less to carbon emissions.
 "We should continue with the green growth pathway as we consider development strategies that consider less carbon emissions," he said.
Prof Yanda said developing countries must continue to find ways to develop their wealth of resources and other alternative economic opportunities to foster development.