Fei Toto joins Azam at last after seven-month Yanga boycott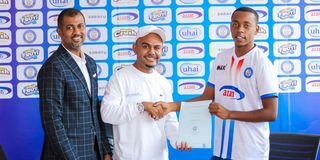 What you need to know:
The matter has been resolved just four days after President Samia Suluhu Hassan had requested the Yanga leadership to amicably solve Fei Toto's contractual saga
Dar es Salaam. Former Young Africans (Yanga) attacking midfielder Feisal "Fei Toto" Salum has finally joined Azam FC and promised to take the Mainland Premier League club to the next level of development.
His insistence on leaving Yanga was agreed just four days after President Samia Suluhu Hassan had directed the Yanga leadership to amicably resolve his contractual saga.
President Hassan issued the directive when hosting a dinner party at State House in Dar es Salaam for Yanga players and their officials, congratulating them for reaching this season's finals of the  CAF Confederation Cup. Salum had been demanding to leave the club since December last year, although his contract was due to expire mid-next year.
Speaking after signing a three-year contract to join his new club yesterday, the player said, "I will do my best for the team, and I call for cooperation from the fans. What I have done for Yanga, I will do more for Azam FC," He also thanked the President for her support for ending his matter and enabling the two clubs to reach agreements.
However, the package involving Yanga, Azam FC and Salum was not disclosed as per the agreements. On the money contributed by various football stakeholders to support him to take the matter to the Court of Arbitration for Sports (CAS), Salum said he will donate the money to mosques, churches and orphanages since he said he does not know who has contributed for him. A few weeks ago, the player appealed to the general public to contribute funds so that he could take his case to the CAS, where he said he believed that justice would have been served.
"I thank the President for her support and for enabling the two clubs to meet and resolve the matter. I love Yanga fans, members, and leadership for their support during my stay with the team," he said.
For his part, Azam FC Chief Executive Officer Abdulkarim Amin alias Popat, commended the President for her efforts to amicably end the matter.
Popat also applauded Yanga for agreeing with them, saying Salum will start playing for the team in the next league season. He said Yanga have done what football is all about and will continue to cooperate with them. 
"Yanga deserve a compliment for resolving the matter and agreeing with our terms. Azam FC also commend President Samia for her efforts to resolve the matter," said Popat.