LSF: a legal aid sector partner, gender-sensitive organization to look out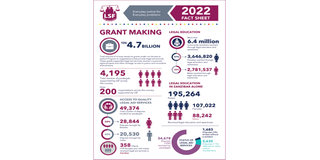 2022 was a year to remember for the Legal Services Facility (LSF) as it ended on a high note with a number of accomplishments registered.
It was the year that the facility almost gave everything for the people it serves from legal education, grants, access to quality legal aid services, gender-based vio­lence, Haki Yangu App to capping it with 2022 Rising Woman's accolade of an overall winner.
Starting with legal education, LSF reached more than 6.4 million community members through various inter­ventions employed by its key partners in the ground, where out of the figure, 3.64 million were female and 2.78 million were male. In Zanzibar alone, 195, 264 people were reached for such an awareness, out of that, 107,022 were male and 88, 242 were female.
Grants is another area that LSF was active in. Sh4.7 billion worth grants were earmarked to organizations that provide legal aid services. These grants supported legal aid services, women's economic rights projects and other strategic access to justice and innovative interven­tions. A total of 4,195 paralegals and over 200 organiza­tions were supported by LSF across the country.
Speaking of quality legal aid services, paralegals han­dled a total of 49,374 disputes, 28,844 being brought up by females and 20,530 brought up by male. And in isles, a total of 358 clients received legal aid services, 195 females and 163 males. LSF recorded 1,683 disputes that ended without a resolution (an equivalent of 3 percent) and 5,635 disputes ended with resolution (an equivalent of 11 percent) and 34,678 disputes were settled by paralegals (an equivalent of 70).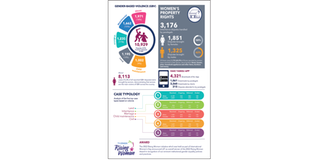 Gender-based violence (GBV) is one of the critical issues that LSF has taken into profound consideration. The firm received a total of 8,113 GBV related cases (where 72 percent of all reported GBV disputes) were brought by women, signaling that they are leading vic­tims of such atrocious acts.
It was observed that 10,929 disputes (22 percent) were GBV related incidents with abuses hitting 1,971 cases (18 percent), matrimonial stands at 1,662 cases (15 percent), violence registers 1,235 cases (11 percent), land records 1,195 cases (10 percent) and child maintenance sits at 1,002 cases (9 percent).
In women's property rights, it was reported that 3176 inheritance disputes were handled by paralegals. Out of that 1851 (58 percent) disputes were brought up by females and 1325 (42 percent) were brought by males.
Again, of these cases, 1172 cases (63.3 percent) of those reported by women were resolved in their favor, granting them farms, plots, houses, household appliances and other items, furniture and money.
With Haki Yangu App, LSF established this digital platform to help solicit legal aid services online to its clients. The App collected 4,321 downloads, where 1061 downloads by paralegals, 3,260 downloads by clients, and 315 disputes were attended by paralegals.
The statistical sequel of LSF was capped by scooping up Rising Woman's accolade as the 2022's overall winner honored for their excellence in gender-transformative policies and practices.