How a gifted creative is sharing his life experiences through art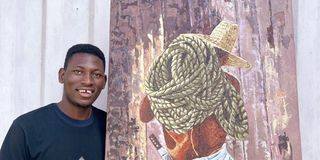 What you need to know:
Using canvas, Barnaba Mnamba, a creative artist is able to express a part of himself that is masked by emotions
Art is an experience that is secretly hidden in different mediums. It can be expressed through bold yet dark strokes of acrylic paint on a canvas or light shading in charcoal pencil on paper.
In the making of art, artists unveil not only the message behind their creations but also parts of themselves that are masked by emotions that are unlikely to be spotted at first glance. Most of these emotions are triggered by life experiences and challenges the artists have been through.
Such artists include Barnaba Mnamba, a painter based in Dar es Salaam. His paintings are well known to carry sentiments that he communicates through the use of bold, rough strokes on his canvas, along with the gluing of boxes and mirrors to emphasize the message he wants to share with his audience.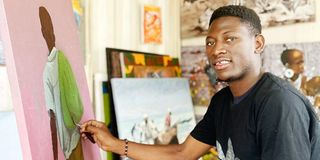 "Art is like a self-challenge that calls out to the most creative part of your mind to breathe life into an idea on a blank canvas. It's an intriguing feeling that makes you courageous that the idea would eventually match the painting on your canvas," he unfolds.
Barnaba's journey in the creative world began in 2015, shortly after Barnaba saw an oil painting of a sunset hanging in his neighbor's living room.
"I did not know art until I saw a glimpse of it in my neighbor's living room. I was fascinated by the idea that such colors on a canvas could make beautiful artwork that looked like an actual sunset. I was afterward interested to know how it was made," he recalls.
Before this happened, Barnaba was a cook and dishwasher at the Mayfair Hotel. He later developed an eye condition that caused his sight to sometimes become blurry, which made him quit.
Wanting to make ends meet, he began selling fries near his home to help his parents keep their household afloat. When he saw the painting in his neighbor's living room, it became all that Barnaba thought of.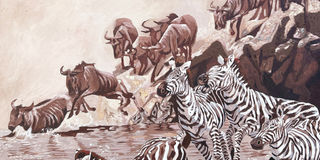 "There was an announcement for new recruitment in the military, and my parents emphasized that I send my application because they saw it as a gateway to a successful career in the military. When I openly told them that I was not interested in joining the military, they told me that I would have to find another place to stay. This pushed me to agree to get recruited, as I was also silently praying for a miracle for me to get recruited," he details.
Like fate was on Barnaba's side, the late President John Magufuli made an announcement about the postponement of military recruitment until a later, uncertain date, shortly after he came to power.
"I was thrilled about the postponement. My parents could see happiness in my face upon the announcement. This made me shift my entire focus to my sketchpad, which was at the time filled with different artworks about people and situations that I wanted to freeze into rough pencil drawings," he explains.
His neighbor gave Barnaba the name of the place where he could make connections with artists who were already exploring the creative industry. This store was called Tingatinga Oysterbay.
"The first person I met at the store was an artist named Msafiri Wanda. He asked him to see my sketchpad that I had carried with me, and he was impressed with my progress over time. He offered to train me on ways to mix painting colors. I began to see my own improvement in 2017, and a year later, I moved my studio to my home place, where I lived with both my parents and siblings," he explains.
Barnaba started to develop an interest in understanding the reasons other artists made art the way that they did, and this opened his eyes to acknowledging art from perspectives that were different from his.
"It detailed the way art holds meaning for these other artists. It was quite eye-opening. Around the same time, I learned that every art form has its own style and touch. This taught me that artists give a unique experience based on their work," he explains.
In 2019, Barnaba relocated to another studio in Kigamboni, where he worked for three years before joining the Nafasi Academy at Nafasi Art Space in 2022.
One of the most challenging times in Barnaba's career was when his young sister got lost in the ocean in early 2020. He could not paint for about six months. A chance to take part in a group exhibition presented itself. As he was still grieving his sister, Barnaba forced himself to at least complete one painting.
"The same artwork I painted for the exhibition was my first painting to ever be sold for a higher amount. I sold it for Sh2 million. The person who bought it visited me at home, and he paid the amount in cash in front of my parents. While I was not shocked, both of my parents had not expected that art could be that valuable. From that moment on, my parents began to fully support my career in art," he says.
Through his work, Barnaba expresses his intentions. This explains the use of different materials glued to art, including sand, pieces of boxes, papers, mirrors, pieces of clothes, plastic hair, and others.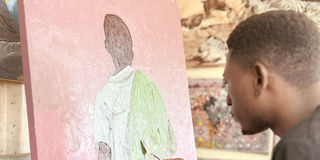 "I use art to express ideas and experiences that, most of the time, are relevant to society. It's such a relief when a person sees my artwork and they relate to the emotions I have been able to put on my canvas, because this makes both my audience and me feel seen and heard. When the audience feels connected to the messages I share in my paintings, that is when I feel like art chose me instead of the other way around," he says.
Barnaba is currently planning to organize his first solo exhibition, which will take place later this year.
"I did not want to do a solo exhibition out of excitement or influence from other artists. I wanted to first find a primary goal and message that my exhibition would be based on. I am currently finalizing a number of paintings that will be showcased alongside other artworks that have already been completed," he hints.