Dorine finds bliss in body acceptance and travelling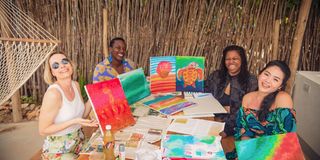 What you need to know:
In an era where everyone wants to have a perfect body to show of, Dorine insists on self-acceptance as she travels the world
When you want to visualise travel, safari, or vacation, most likely what pops up in your mind is relaxation and maybe seeing a few wild animals or a margarita by the beach in a picturesque setting in Zanzibar or some other exotic dreamland, but Dorine Mugisha, a dance instructor, had more in mind.
Dorine, who still identifies as Tanzanian, was born in France to Tanzanian parents. At 13, she moved to England.
Our meeting started a few minutes after 10 a.m. British time. "Sorry, I had to get coffee in between meetings," she laughed after we had to delay our meeting for two minutes. Her British accent is very evident—the accent that some African American actors claim makes British actors favorable in Hollywood. "The first time I went to the US in 2018, we had many black dancers, and I thought I would blend in, but as soon as I spoke, I stood out for my accent," Dorine remembers.
For some time, Dorine felt detached from her Tanzanian roots because she didn't feel at home because she needed a visa to visit Tanzania. Also, due to racism in France, she wasn't really thrilled to openly disclose her African origin.
But that changed when she visited Tanzania in 2020, traveled to see the beauty of the country, and felt she had to share it with her friends in Europe. At the time, she would hold dance classes online.
"One of my friends told me, why don't you come with me to travel and do dancing together? It just clicked because I love dancing and I'm good at bringing people together," she says.
Dorine pondered on the idea for a year, and she initially didn't think people would join her, but when she introduced the idea to a lady from Poland whom she had never met and only interacted with in her online dance classes, she said she would travel to Tanzania and join her. Just like that, Dorine's body movement and dance retreat was born, and the first retreat was in Zanzibar.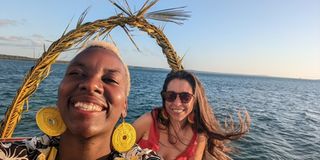 "From there, we started growing, and it's the sharing part that I love and seeing how it impacts women. It's a women-only retreat because I feel it's easier to manage and women can be more open and comfortable in that environment," Dorine informed, adding, "I am a big black woman who dances, and that has always defined me, and I don't know many women who look like me and can dance. It shocks many people to see me dance."
Acceptance and representing big women who can move their bodies to the rhythm while promoting health have always inspired Dorine.
Health doesn't always have to be defined by the picture-perfect Hollywood body that has been prevalent on social media. "In our retreat in Zanzibar, we found an amazing boxing instructor called Asha," Dorine said with joy.
Body movement and dance retreats involve group sessions that ultimately create a great body and also provide space for people to get to know each other.
This friendship blossoms into an exploration venture of Tanzania's wildlife in national parks or quality time in Zanzibar or Dar es Salaam.
"Most of the people that have taken part said afterward that they didn't think they were going to like it but ended up loving the experience," she said, adding, "I normally take my guests to Zanzibar, and we often visit Bongoyo. For wildlife, we go to Mikumi and sometimes to Arusha. We went to Maasai Boma and climbed Mt. Kilimanjaro, but just at the base," Dorine shared.
"My mom, who is 65 now, always dares me to climb Kilimanjaro to the top because she did it in her youth, but I climbed Mt. Uruguru, and that is enough for me now," she laughed.
"I would say the best place I love visiting in Tanzania is Bongoyo Island. It is not crowded, and it's good for a calm, quiet time. I also recently visited Tanga, and I love it.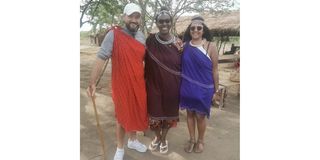 Dorine wishes to meet more women from across the world. "All my information is on my website, bodymovent.me," she shared.
Dorine hopes her business will grow to afford the establishment of a charitable branch so she can impact the community she interacts with.
In an era where everyone wants to have a perfect body to show off on social media, Dorine insists on acceptance of one's own body. "If you look at my posts, some have my stomach showing, and I'm a big woman, but I don't care. I hope other women will see it and have the courage to be themselves," Dorine continues. "You do not have to be skinny or instagrammable to dance or travel."