The time of my life in East Africa's party central, Uganda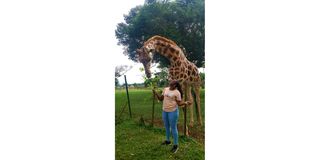 What you need to know:
Nestled a long the equator, Uganda is blessed with fertile land, lush greenery and is also home to the source of the Nile. The wildlife is equally as unique, providing their tourism sector plenty to experience. For thrill-seeking travelers, activities such as white water ratting, bungee jumping and hiking the Rwenzori are as fun as they are challenging
As a millennial globetrotter, I often make it a point that when I visit any place for the first time, I keep my mind as blank as this page before I put any word on it and as spongy as a toddler discovering the pleasures of eating everything they are told not to touch.
It is almost ritualistic, the lengths I go to just to achieve this little feat. I once again put this into action when the Uganda Tourism Board (UTB) invited me to attend their Pearl of Africa Tourism Expo (POATE).
At this point, allow me to point out how I had extremely underrated this gem of a country. A lot of times, when we talk about tourism in the East African region, Tanzania and Kenya are always at the forefront.
Uganda was dubbed 'The Pearl of Africa' in 1908 by Winston Churchill for a reason. During the course of the expo, Dr Liliy Ajarova, the CEO of UTB had a chat with The Citizen and explained: "Uganda is known as the pearl of Africa because it has the depth, range, and variety of all that Africa has to offer. This includes her rare products such as wildlife that is only endemic to Uganda; endangered wildlife such as the mountain gorillas, of which 54 percent call Uganda home; the big seven, which are the big five we all know of plus the mountain gorillas and chimpanzees; the only forest in the world where you will find two of the biggest apes in the world; the source of the Nile; and the Rwenzori mountains, which are the highest altitude mountains with permanent snow sitting on the equator."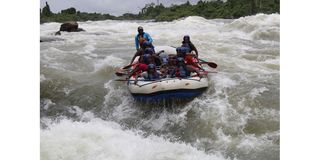 With all her natural beauty, Uganda also offers some of the best activities to cater to all ages and interests of visitors. If you are looking for safari rides, close-up encounters with mountain gorillas, a hike up the Rwenzori, relaxing vacations on any given island of your choice, or high-impact, adrenaline-pumping activities, the Pearl of Africa should make your top 3 East African destinations.
I had the pleasure of exploring the culture, the wildlife, the relaxing, and the high-impact sides of tourism in Uganda. This is one of those trips where keeping an open mind paid off in every good way.
While I travelled as a hosted guest, I did make it a point to inquire about the costs of travel and accommodation for a budget traveller like myself, and I was not at all disappointed. On top of having variety, these activities do take budget travellers into account, which means if planned well, one can still have fun without having to sell off a kidney to afford the trip. Kidding!
As we began the fam trip touring the country, our hosts, Mr Herman Olimi and Peter Nsubuga would give us histories of these different places: how they came to be, the communities that surround them, and how active community tourism benefits them.
Being on the equator means that Uganda is blessed with fertile ground, which makes it prime for forests and farms alike to thrive. Our first stop then was the Mabira rainforest, located in Buikwe District, between Lugazi and Jinja, lying north of Lake Victoria.
It was in this rainforest that I had my very first taste of ziplining. The goal of this activity was to experience the forest from high up in the trees, zipping across seven trees, as high as 45 metres. This activity will have your heart racing, and if you have any health conditions like blood pressure or heart issues, you are advised to stay away.
We began with a 20-minute hike from where we had parked to the starting point. Keep in mind that this is a rainforest so the ground is wet and muddy, and this activity really put my germophobic self to the test.
To get to the first platform, high up on a 45-metre-tall tree, you climb the tree trunk, which is fitted with rungs, giving it a wall-climbing-like vibe. You have a harness around you through which a rope is attached and a guide helps you up so you are basically using 40 percent of your actual strength. Before you say, "Oh! Sounds easy enough!" I'll spare you the breath - It is not.
I got to the top of this platform, huffing and puffing and ready to pass out where I found a guide who then tethered me to the tree to catch my breath. You are then attached to the zip line and sent across to the next platform where another guide is waiting to receive you. And so you go, zipping to the last tree through that mammoth of a beautiful forest.
White water rafting on the Nile
After getting through the Mabira forest, we headed on to Jinja where we checked in at the Nile Resort to cool our shocked bodies and prepare for an even wilder morning of riding the rapids on the Nile.
White water rafting, as it is known, involves rafts, pedalling, and rapids that take pleasure in tossing you out of your raft. Our rafting instructor, Mr Juma of Raft Uganda first took us through the safety course and how to navigate the rafts as a team.
While I have zero qualms about jumping out of flying planes into the desert or jumping head first as the Victoria Falls roar by my side, I draw the line at uncontrolled open bodies of water.
I managed to sit in the raft and rowed with the girls but after getting past the first rapid fall, I asked to move to the safety boat. This was a 4-hour-long activity, so you can use that as an opportunity to sneak in an core and ab workout. White water rafting is fun if you have no problem with water, but for me, experiencing being tossed around in rapids like a laundry spin cycle was not how I'd have chosen to meet my maker.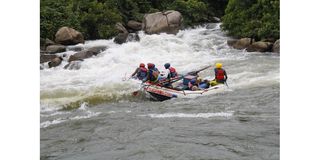 Quad biking is easily one of my favourite activities anywhere. I have gone quad biking on the Namib Desert's sand dunes a bunch of times, but the Ugandan experience was nothing like what I am familiar with. This experience with Quad Biking Uganda had us biking in the mud through forests and communities in Jinja.
It may look easy but it requires skill and mastery of your bike because it is very easy to topple over. Once again, before getting on the road, we were taken through the safety measures and for those who weren't familiar with operating a quad bike, this was an opportunity to get comfortable with your machine.
We then headed out into the great unknown, [at least to us] and had an amazing sunset ride, meeting the community as we went.
This was another activity I thoroughly enjoyed. After successfully seeing Jinja on the quads, the next morning had us jumping 45 metres into the Nile.
It was a rainy and chilly morning, but thankfully, the part of the Nile we were jumping into was relatively calm. Before getting onto the platform, once again, safety precautions are explained to us, and we are weighed to know what kind of straps are best suited for us.
We get onto the platform, one jumper at a time, and guides from Bungee Jumping Uganda strap us up and get us ready for the jump. You are given the option of dangling by your ankles or landing seated, touching the river with your hands, 'kissing' or being dipped into the water.
The phrase 'kissing the Nile' was coined around this activity. Since this was not my first time bungee jumping, I opted to land seated. My first experience was incredibly terrifying, as I did it at Victoria Falls.
Once I was harnessed and strapped up to the bungee rope, the guide moved me to the platform and had me teetering on the edge before letting go. The free fall was scary, exhilarating, and freeing all at once. Knowing that you have zero control over where you are going and still trusting that you will be safe is not something to take for granted. An absolute reminder that you should always chase the thrill, every once in a while.
Jinja offered us plenty of thrills to chase, and after successfully jolting ourselves, we proceeded to Entebbe and then got onto MV Brovad, a private boat for the Brovad Sands Hotel, for a few days of island relaxation, boat partying, and island hoping.
The Kalangala District is home to the Ssese Islands, an archipelago of eighty-four islands in the northwestern part of Lake Victoria and is where the Brovad Sands Hotel is nested.
We dock at the Brovad Sands Hotel pier and check in to this dreamy spot. While at first I was ticked off by the poor internet connection, once I settled in, I realised how tranquil and blissful it was, so much so that getting back on line became somewhat of a chore.
While on these islands, we had the opportunity of visiting a local village and then the chimpanzee sanctuary of Ngamba Island, which rescues orphaned and poached chimps and cares for them to later reintegrate them back into their natural habitats.
Uganda has some of the most avid golfers in the region. That is then reflected in the many golf courses around. The Lake Victoria Serena Golf Resort gave me quite a memorable experience. Like any sport, golf is a game of strategy, but it also requires patience and, in my opinion, a certain level of class. My limited experience with golf did not entirely disqualify me, but as the resident pretty girl on the golf cart, I was there to document and gawk at the ambiance.
Show me a traveller who would visit any country and not explore the country's night life. I'll wait… For a while, I've heard stories from people who have been to Uganda who share how the night life is one you cannot afford to miss.
Tales of how Ugandans know how to party have lived rent-free in my head, so you can absolutely bet that the first chance I got to experience it, I did not even ask for an itinerary.
The UTB was generous enough to splurge on a couple of party buses for us, and the second I saw them, I knew this country was about to become my third home.
We tend to see party buses in Hollywood movies, so being in one in real life, complete with drinks and a DJ to keep us entertained for the night, was the cherry on top for me on this visit.
The people are equally full of life and welcoming, and it is one of those places where for once, I did not feel like a foreigner.
Uganda's night life is unrivalled by many. As a young traveller, quality entertainment that is geared to my demographic is not only relaxing but leaves a life-long imprint in our hearts.
This was definitely a vacation I never knew I needed. As we continue to take strides to boost East African tourism and the single tourism visa, among many other issues, I happily urge my fellow globetrotters to explore the region and share the gems we find along the way.