Using print media to enhance teaching and learning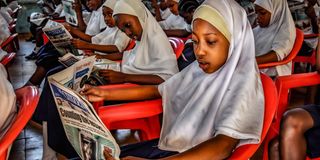 What you need to know:
Reading newspapers allows the young minds to learn about and be abreast of the key developments across the world. It increases the general knowledge of the students, enhances their vocabulary and allows them to inculcate the habit of reading on a daily basis
Dar es Salaam. They might not be as splendid as tablets or computers, but newspapers are still invaluable resources for educators and learners.
Newspapers usually come with a lot of beautifully written material and lots of details.
Every piece of information provides abundant educational materials, in the form of entertainment and educational information.
Through newspapers, you are likely to increase your vocabulary, be able to form sentences, ask good questions, and write good summaries.
In this regard, Mwananchi Communications Limited, through its newspaper The Citizen, came up with the Newspapers in Education (NIE) initiative, whose aim is to unlock limitless learning opportunities and empower the next generation.
The NIE programme, which targets primary school pupils aims to reach ten schools in every region, which is equal to a total of 250 schools and over 1.5 million learners countrywide. The objective is to stimulate young minds and the next generation of primary school pupils.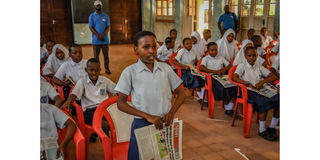 With the overwhelming impact of newspapers, pupils will be able to learn a lot about their country and the world while at the same time developing a reading culture.
Since launching the activation campaign, NIE has worked with two primary schools in Dar es Salaam: Tusiime Primary School in Tabata and Oysterbay Primary School in Kinondoni District.
Interviewed teachers are optimistic that the campaign will be an effective source of motivation for learners. The flexibility of reading newspapers has long made it an attractive instructional tool for teachers.
Teachers have used this tool as motivation to help pupils develop basic skills and to promote learning in various subject areas such as language, arts, and social studies. This means newspapers can be a supportive tool for pupils to gain reading skills.
Ms Christina Rweyemamu, an English teacher at Oysterbay Primary School, says the campaign is important for boosting pupils' self-confidence.
"Being able to stand in front of the class and read news stories aloud helps students gain confidence and improve their vocabulary as well as their story-telling skills," she says.
Newspapers are also a good resource for enhancing reading skills because they encourage pupils to become active learners.
"The different sections within the Smart World magazine, such as career, history, quizzes, and games, set pupils up for success in any examination or competition in life. With these, they get an idea of what is going on at present and what is trending," shares teacher Christina.
Oysterbay Primary School headteacher, Mr Egidius Mjunangoma, says newspapers can be used as alternative learning tools when English books are scarce.
"The reason we have books is to make our pupils understand words and be able to read and write. Newspapers also help in educating the pupils. We need to use them as supporting tools in grooming our pupils," says Mr Mjunangoma.
Echoing the benefits of the NIE campaign, the founder and director of Tusiime Schools, who is also the General Secretary of the Tanzania Association of Private Investors in Education, Dr Albert Katagira, says he wishes to see the government include newspapers in the curriculum.
"I think it's time now for the government to consider making newspapers part of the curriculum because they're also one of the resources that students can use to gain knowledge," he explains.
Dr Katagira says that in order to make newspapers interesting for students, media organisations must involve the students so they may create their own stories that matter to them because they are the ones who know what they want to read.
"Journalists must collaborate with teachers and students so they can give students what they want to read, and get the knowledge they wish to have," he adds.
The head of the English department at Tusiime Primary School, Mr Padere Tadeo, says newspapers promote social consciousness.
"Without newspapers, young people may never be exposed to the social issues facing their communities, but potentially, newspapers can lead youngsters to further explore topics that shape their world and even encourage them to form their own opinions," Mr Tadeo shares.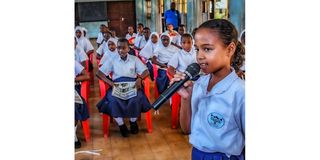 A Standard Six pupil at Oysterbay Primary School, Jasmine Mzee, says that through newspapers, she now knows what it takes to achieve her dream of becoming a doctor.
"Through The Citizen, I have learnt that it takes five to eight years to become a doctor. I was surprised to learn that it takes so many years, but since this is what I want, I will go ahead to pursue my dream," says Jasmine confidently.
According to her, she can now confidently speak infront of a group, thanks to The Citizen's NIE initiative. "Before I was a bit shy. I wasn't used to speaking in front of fellow pupils, but the quizzes and stories within Smart World magazine have helped give me the courage to stand in front of the class and speak to fellow pupils," she explains.
Another Standard Six pupil at Tusiime Primary School, Esther Palombi, says one of the benefits of newspapers is that they can be useful to parents who can't afford to buy books for their children.
"Besides helping build our vocabulary, newspapers can be easily accessed by our parents when they're unable to buy us books. Through newspapers, we can learn foreign languages such as French, solve puzzles, take quizzes, and know what is going on around the world," says Esther.
Luqman Mbwana, also a Standard Six pupil at Tusiime, says; "Newspapers like The Citizen expose us to different reading materials that are important for our future. Through newspapers, we learn different writing styles and gain awareness of current affairs," he says.
Lunotso Dennis, a Standard Six student at Oysterbay Primary School, shares that newspapers can also be a great way for pupils to learn new languages.
"It's very interesting because, through The Citizen, we can now learn French. It's a new thing for us, as now we can learn the basics and understand French like pupils in other schools who learn the subject," Lunotso explains.
Reading newspapers has immense benefits, including helping pupils develop consistent reading habits. Teachers and parents should support students in developing reading habits.