Changing the narrative on mental health issues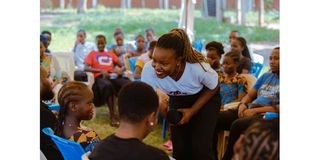 What you need to know:
Our community has been heavily conditioned, socially, to believe that mental health issues are not as big as they are now portrayed. However, for the youth of this generation, this narratives and thinking has prove more detrimental than is understood.
Watukonekt aims to create a safe space for the youth to be able to learn and discuss the issues they face without the fear.
Early October last year marked the first time Tanzania holds a mental health dialogue that was themed 'Make mental health and wellbeing for all a global priority'. This dialogue sparked a discussion that revealed that mental health awareness is still a foreign concept in the country.
This is reflected in a 2022 report by the Word Health Organization (WHO) called 'World Mental Health Report' which shows that in 2019, 1 in 8 people globally had a mental disorder, making it approximately 970 million people. Additionally, 1 in 100 deaths globally resulted from suicides, with more than 50 percent of the cases occurring before 50 years. Suicide is the fourth most prominent cause of mortality among 15 to 29-year-olds.
Considering how mental health is downplayed in the country, a young man named Kizwalo Simbila created a digital platform called 'Watukonekt' that serves as a safe space for young people to share and seek solutions to their most disturbing and often, unspoken problems.
Through Watukonekt, Kizwalo and his team of 10 have been organising different events to drive interaction with the members who have recently grown to over 300.
"One of the primary goals for Watukonekt is to familiarise Tanzanian societies with mental health education because in our country, this particular topic remains foreign to many people, especially young people who have been brought up by people who glamorise silence, even when is going through depression. When one is silent about their struggles, stress and thoughts, it is still considered 'strength'. I aim to change that," he details.
This platform unofficially started in 2018 when Kizwalo was pursuing his Bachelor's degree in International Business and Trade at Ningbo University in China.
"I had the idea of a mental health platform but did not know how best to execute it. Then came the pandemic which led to living a quarantined life with so many uncertainties. I had never lived and felt as alone as I did then. It felt like the world I knew had shut down on me. Studying in a country that had the first wave of the outbreak, I went through depression me as a result of the life I had been forced to adjust to. Intending to remain sane, I started reading about mental health and the ways I could adjust to this new life," he recalls.
In the early days of quarantine, one of his friends who was also a student at the university committed suicide by throwing himself off a building. This made Kizwalo even more eager to understand everything around mental health.
"That one situation gave me a picture that human beings experience different unspoken mental battles and these struggles we go through tend to be different for everyone experiencing them. I wanted a place where people like myself could talk about such challenges with the intent to find solutions and learn from other people's experiences, as well as advice from mental health experts."
When he came back home in 2021, he began consulting mental health experts including psychologists and advocates to better understand his idea before encouraging others to begin signing in.
'I am no expert when it comes to this particular topic. Through the experts, I expressed my goal of having a space where young people in the country can be vulnerable, feel united and understood. I wanted to bring to life a platform that young people can use as their safe space," he explains.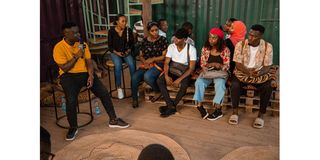 The platform was first called 'I Talk' and was later renamed to 'Watukonekt' when it was launched in August 2022.
"We named it Watukonekt because it reflects our primary goal which is to connect young people and familiarise them with mental health issues. Our first meet-up was in August last year when the platform was being launched. We met at Nafasi Art Space which is situated in the heart of Mikocheni and the unexpected turnout of about 70 people motivated me and my team to curate a second meet at an apartment which is also in Mikocheni," Kizwalo details.
At the first session, Watukonekt introduced itself and gained an interested crowd who also attended the second session, in which they talked about relationships and their hurdles. In their third session, they visited people who had experienced human trafficking.
"One of the things we picked up from all these sessions was that people find it hard to open up about their experiences. They find it hard to relive those parts of themselves. This gave us the idea to make this platform more relatable and conduct different events that would make the members interact to ease their tension before we get to talking about the different issues relating to mental health," he says.
Their recent get-together was a hiking activity at the Pugu Hills Forest Reserve which gathered over 50 members.
The trip started at Mlimani City Mall and within an hour, the two coaster buses arrived at the main entrance to Pugu Hills Forest Reserve. A short while after finalising the payments for all members, the hiking began. Music blasted off the small speakers that were brought by some of the members, setting the mood for the hikers.
In less than 40 minutes, we had passed the Pugu dam which is surrounded by a heavy forest and we were at the foot of the stairs that led to the peak of the hill.
At this point, a tour guide named Ammary Mwiru gave a health warning that if anyone had any health issues such as asthma or heart conditions, they were to stay behind. A few people stepped aside and waited near the dam while others began their hike into the forest reserve. Mr Mwiru was at the front leading the team and another tour guide named Samson Ikanda watched the group from the back to ensure everyone's safety.
The hike to the peak was done on stairs and for the safety of the hikers, each person was to be on one stair at any given time.
As we got close to the peak, the tour guide instructed us not to look back because it would make us feel nauseous. The fatigue caught up with us as we neared the peak and climbers started to scream and groan while others crawled up the stairs because their feet could no longer walk. The tour guide threw down a worn-out red coloured rope to assist us to reach a flat area which was close to the peak.
We got to the peak of the hill and it was beyond incredible. The whole of Dar es Salaam lay before our eyes beyond the thick forest below. Minutes later, we sat in a circle and a topic about anxiety came up.
Some of the hikers shared their own experiences of anxiety and the things they did to cope.
"I love to network with people from different backgrounds and when I saw BBC'S coverage on Watukonekt, I felt like this was the place I was meant to be. I dug for information about them and checked their Instagram page. When I saw that they were putting together an event in February with an organisation that helps people who had experienced human trafficking, I joined them. It felt at home with people whose curiosity in understanding mental health issues matched mine," says Dorcas Mushi, an entrepreneur based in Dar es Salaam.
On her part, Given Sam, a health practitioner who is also a mental health advocate shares that Watukonekt has helped her to spread the word on the importance of mental health awareness in Tanzanian societies.
"We have grown in societies in which people perceive meeting therapists waste of time and money because they believe in bottling up their emotions, something they have done for decades. At Watukonekt, we are painting an entirely new picture of mental health issues and vulnerability," she details.
When Mohammed Simba, a civil engineer joined this platform seven months ago, he did not see himself becoming one of the mental health advocates.
"I have seen up close how Tanzanians ignore mental health. This made me eager to join this platform because I wanted to be able to share my knowledge about it based on other people's experiences and mine. Watukonekt, like the name of the platform, has connected me with people who have studied mental health and those who have seen its faces through experience," says Mohammed.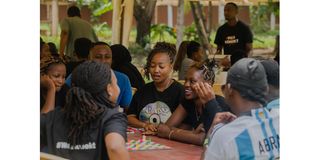 According to Lisa Chikongoye, a chemical engineer who saw the platform from the time it was an idea to the stage it currently is, the platform will be one of the trailblazers in connecting young people and mental health.
"It is a beautiful thing to witness the platform changing the narrative about mental health as the organisers are making an impact through emphasis on the importance of spreading mental health awareness," she says.
Kizwalo foresees Watukonekt as a platform that will be able to reach and serve young people across the country.
"We have started with Dar es Salaam and the way people have received it has been motivational. Our goal is to spread the same experience and knowledge across the other regions in the near future," he says.