CRDB named best Islamic Banking outfit in E. Africa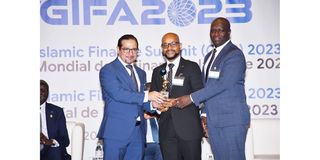 Dar es Salaam. CRDB Bank Plc has been awarded for its provision of quality Islamic financing services.

This comes within just days after the lender introduced banking cards through its Al Barakah Banking.

Launched almost two years ago, the Al Barakah is the brand name for CRDB's Islamic Banking Window, stipulating products and services that conform to Islamic business principles and practices.

The bank became the only lender in the East Africa region to receive the award during the 13th Global Islamic Finance Awards which were held  at King Fahd Palace Hotel in Dakar, Senegal.
Speaking during the event, the chairman for the Global Islamic Finance Awards (Gifa), Prof Humayon Dar, said through the Al Barakah, CRDB Bank was opening the doors for financial institutions in East Africa to finance business operations for members of the Islamic community under guidelines that conform to their religious beliefs and principles.

"CRDB Bank becomes the first financial institution in East Africa to win in our awards. We believe you will be our good ambassador in the promotion of this good banking window in the issuance of financial services to Muslims in East Africa," Prof Dar said in a statement released by CRDB Bank yesterday.

Since the launch of its Al Barakah services towards the end of the year 2021, over 70,000 people were now banking with CRDB through the window.
It has since accumulated Sh85 billion in customers' deposits and loaned over Sh90 billion under the Islamic banking window.
Receiving the award, the director for retail banking for CRDB Bank, Mr Bonaventure said it was encouraging to note that international organisations were recognising some innovative services being offered by the lender.
"Through our network of 260 branches, our Islamic banking services are available throughout the country and this is what sets us apart from the competition because some of our competitors only offer such services in limited geographical locations," he said.

The CRDB Bank's head of Islamic Banking, Mr Rashid Rashid, said while it was normal to hear a financial institution being recognised for its issuance of other normal banking services, it was quite encouraging to see that the lender has now been awarded for its issuance of sharia-compliant services.
Gifa awards were first introduced in the year 2011.