Government collects Sh8.6 trillion through NMB Bank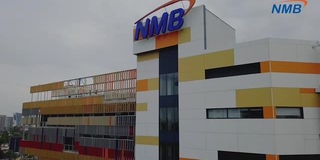 What you need to know:
NMB through its highly innovative financial solutions diligently serves the local authorities, central government and the whole country at large.
Arusha. NMB Bank Plc said yesterday it has enabled the government to collect billions of shillings through its several digital finance channels with the government.
The publicly listed company is the first lender in the country to connect its systems to the government electronic payment gateway (GePG).
"Through several digital finance channels the government managed to collect revenues amounting to Sh8.6 trillion in two years from 2019," said Alfred Shao, the bank's Chief of Wholesale Banking.
According to him, the collections through the GePG were facilitated by the recently introduced digital solutions such as NMB Mkononi, NMB Wakala and internet banking..
He revealed this when he announced the lender's Sh200 million sponsorship package to the 37th congress of the Association of Local Government Authorities Tanzania (ALAT) starting here today.
"It is through this top-notch creativity and technological investments that made us the first bank to connect our systems to the GePG and so far over 1,100 entities interact with the NMB digital revenue collection platforms," he said.
He added that NMB through its highly innovative financial solutions diligently serves the local authorities, central government and the whole country at large.
The service has excelled most in that it led to increased collections of revenues from multiple-revenue generating sources..
Mr Shao added that the digital solutions applied have not only eased tax remittances to national coffers but also greatly helped to improve collection of the requisite taxes.
The bank has pledged to work closely with local government authorities and that this includes sponsoring its annual meetings.
This is the seventh time the bank is sponsoring the ALAT's annual general meeting, making a total of Sh.1.2 billion worth of sponsorship for all those years.
"We have been partners with ALAT in many national development endeavours for over seven years now and that's why we also readily concurred to sponsor this year's AGM when they sought our support.
"However, of utmost importance today is the announcement of our Sh.200 million sponsorship to help the organisation of this year's congress," he explained.
ALAT is made up of 184 local authorities and needs the money to finance construction and maintenance of a host of social services such as education, health,road and environment projects.
The key agenda of this year's ALAT congress to last for three days is how improve infrastructure for better service delivery in local government territories in both Mainland Tanzania and Zanzibar.
ALAT vice chair Sima Costantine Sima said the lobby highly regards its commercial and developmental ties with NMB Bank, which have not only benefited the two organisations but also delivered immense value to the people they serve.