Yanga celebrate their 29th Premier League title with a win over Tanzania prisons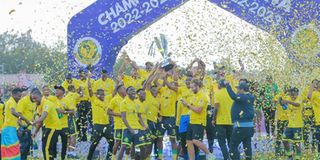 What you need to know:
Yanga's goals were scored  by Mayele and Bangala to mark the official celebrations of the team's achievement for the second time in a row
Mbeya. Young Africans (Yanga) were yesterday officially crowned the Mainland Tanzania NBC Premier League title at the Sokoine Stadium in Mbeya.
The title is the 29th in the history of the Jangwani Street giants, who recorded a 2-0 victory over Tanzania Prisons yesterday. Yanga's goals were scored by Fiston Mayele and Yannick Bangala to mark the official celebrations of the team's achievement for the second time in a row.
This is the second title for Yanga to emerge victorious this season after they earlier won the Community Shield by beating Simba 2-1 at the Benjamin Mkapa Stadium in Dar es Salaam.
Yanga are likely eyeing the third title as on Monday at 3;30pm they will be facing Azam FC in the Azam Federation Cup final at the Mkwakwani Stadium in Tanga.
As the winners of this season's NBC Premier League title, Yanga will pocket Sh100 million from the league main sponsors, NBC Bank, as well as a Sh500 million bonus from Azam Media as per the contract signed with the Tanzania Football Federation (TFF).
Besides that, Yanga will be rewarded Sh3.1 billion by Azam Media Limited as per the 10-year-contract worth about Sh41 billion signed between the two parties. The Jangwani Street side will also pocket Sh150 million from their Main sponsors, SportPesa Tanzania.
As Yanga were crowned the title yesterday, the team's striker, Fiston Mayele, and Simba's attacking midfielder, Saido Ntibazonkiza, shared the golden boot award after each having scored 17 goals.
Ntibazonkiza made a new record in the league after scoring seven goals in last two league matches. He netted in five goals in the match against Polisi Tanzania before adding two in the final encounter against Coastal Union at the Uhuru Stadium. Yanga assistant coach Cedric Kaze said it was not an easy season as many teams played hard, aiming to win the title. He said Yanga's good leadership, support from members and fans were the key to the team's success for this season.
"We faced a strong opposition in the league and our players deserve compliments for achieving top honours. We did it last season and we have to do it again the next season," said Kaze. Yanga captain Bakari Mwamnyeto said the league was tough, despite winning the title.
Meanwhile, Mbeya City and KMC will have to play in a relegation playoff after finishing 13th and 14th respectively in the league standing.
The winners of the playoff will face Mashujaa FC from the Championship League while the losers will be relegated to join Polisi Tanzania FC and Ruvu Shooting FC.