World Vision Tanzania treasures over 40 years of children healthcare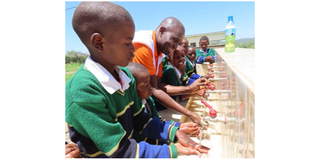 World Health Day (WHD), cele­brated every year on 7 April, marks the anniversary of the founding of the World Health Organization (WHO) in 1948 and each year focus­es on a specific public health con­cern.
In addition to focusing on the journey to achieving "Health for All," which is this year's theme, WHO will observe its 75th anni­versary under the theme 75 years of improving public health.
WHO doesn't mark this crucial day alone, World Vision Tanza­nia (WVT), which is a Christian development, relief and advocacy non-governmental organization (NGO) with the aim of catalyzing holistic and sustainable develop­ment for the well-being of children within families and communities especially the most vulnerable, celebrates it too in alignment with their focus on improving chil­dren's well-being through trans­formational interventions aimed at spiritual, mindset, psychological and relational aspects.
For more than 40 years, World Vision has been supporting facili­ties providing Primary Health Care services (including IMCI – Inte­grated Management of Childhood Illnesses, Expanded Programme on Immunization (EPI); and overall reproductive, and maternal, new­born child adolescent health and nutrition services.
It works alongside the Minis­try of Health to improve access to health and nutrition services that include construction, rehabilitation and management of public health­care facilities, capacity building of healthcare workers among others in 42 area programmes spread in 16 regions of Tanzania.
Prior to the marking of World Health Day, World Vision Tanza­nia Health and Nutrition technical team leader, Elizabethproscovia Ndaba held talks with the Citizen newspaper over the organization's core activities, milestones in the country and their future outlook.
Question: How does WVT live up to WHD theme – Health for All?
Answer: Being a communi­ty-based organization, WVT employs a number of programing approaches that are not only cost effective but also creating commu­nity ownership of the programme hence ensuring the sustainability of the programme.
Citizen Voice and Action approach is a social accountability and local-level advocacy methodol­ogy that aims to address inadequate essential services by improving the relationship between communities and government, and empowering communities to hold the govern­ment to account.
In the fiscal year 2022, under the health and nutrition portfolio, World Vision planned to train 1,200 Community Health Workers, sup­port outreach programmes for vita­min A supplementation to reach 138,310 children aged 6-59 months.
We were able to train 1,044 Community Health Workers and reached 134,147 children in areas of intervention with Vitamin A sup­plementation.
WVT also supported 2,587 chil­dren to receive birth certificates and 3,290 Registered Children to access Health insurance for support in the treatment of illnesses.
Such interventions increase demand for reproductive maternal and newborn care services and also contribute to significant reduction of under 5 aged children's deaths through immunization.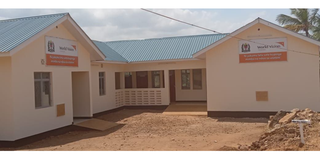 Question: How does WVT con­tribute to the development of the health sector in the country?
Answer: Evidence shows that health systems powered by a pri­mary health care (PHC) approach is the most effective and cost-effective way to bring services for health and well-being closer to people.
World Vision Tanzania believes in collaboration and advocating broader impact as a strategy to increase access to health servic­es and ultimately ensure people's well-being.
During the cycle of the financial year 21/22 strategy implementa­tion, Kagera cluster allocated funds to partner with the government and other stakeholders in the region, specifically for the strengthening of the health system.
Rubale Health Centre, which used to provide RCHS services in one room even after being upgrad­ed to a health facility since 2013, is now able to increase the number of deliveries from 20 per month in 2019 to more than 54 per month in 2022.
We supported building three admission rooms of 8 beds each, delivery rooms with two beds, nurs­ing station, and store and decon­tamination room.
A conducive delivery environ­ment at the facility contributed to the increased number of preg­nant mothers attending the facility. Additional funds through DHFF from the government facilitated additional construction of a theater.
In the same financial year, the World Vision organization, through the Kwamsisi Area Programme in Korogwe District, Tanga Region, supported the purchase of various medical equipment to be used in all Kwamsisi dispensaries.
The medical equipment cost Sh37 million and will cover about 14,946 adults including 7,578 chil­dren.
All these efforts are geared to complement the government's efforts to improve the health and well-being of the citizens.
The same has been done in Kigo­ma Region, where we completed the construction of Nyamtuku­za maternity ward and Churazo Outpatient Department block in Nyaronga area.
Also, in contributing to the gov­ernment's efforts to combat the spread of infectious diseases due to poor sanitation and hygiene, and to ensure that institutions such as schools and hospitals have proper infrastructure in place for preven­tion of infectious disease like Cov­id-19 and other disease outbreaks, we built two hand washing facilities at Mkalamo dispensary in Kwamsi­si village, costing Sh30 million.
The washing facilities would be expected to benefit a total of 1,778 residents including 830 children.
For the 2021/22 fiscal year, 14 health care facilities gained access to clean water. 17 health care facil­ities gained access to hand hygiene services after permanent hand washing stations were construct­ed. Block latrines with 24 sex sep­arated stances were constructed in 11 health facilities. These have improved delivery services in the respective health care facilities.
Question: How does WVT see the health sector?
Answer: There has been signif­icant improvement in the health sector in comparison with last dec­ade. The availability of specialized services up to the lowest level of facilities, medical equipment and commodities, increased human resource for health, increased accessibility of the services through insurance and infrastructures.
Question: What are the challenges and the way forward?
Answer: Perhaps the most press­ing issue in health care currently is the high cost of care. More than 40 percent of our population are una­ble to afford health care.
The cost of health care changes people's behavior, with many forgoing seeing a doctor when they feel sick or avoid­ing preventive health visits entirely given the current triple burden of disease faced by the health sector.
Such behaviors can lead to seri­ous health issues, increasing the cost of care down the road and even­tually overburden the health sector.
The solution to this could be reducing the cost of care, reducing insurance premiums and institut­ing comprehensive price caps for service provided by private insur­ers and most importantly joining hands to support the government's current initiative in ensuring uni­versal health coverage that aims to ensure full community access to medical services.