TBL's pre-arranged deal boosts DSE turnover by Sh4.7 billion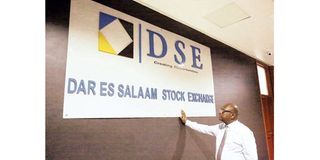 Dar es Salaam. Turnover at the Dar es Salaam Stock Exchange (DSE) rose by 23 percent last week, thanks to a Sh4.7 billion pre-arranged deal by foreign investors at the Tanzania Breweries Ltd counters.
The deal that involved 790, 000 shares was settled on Friday, May 26, 2023, at Sh6,000 per share, a discounted price as TBL market price stood at Sh10,900 per share.

With the deal, the turnover jumped to Sh4.9 billion from the preceding week's Sh3.9 billion.

According to Zan Securities Limited, the deal saw TBL accounting for 96.6 percent market share of last week's trading activities as Twiga Cement and CRDB Bank Plc held 1.49 percent and 0.76 percent of the market turnover, respectively.

Zan Securities' chief executive officer, Raphael Masumbuko, said in the stock market, sectors such as banking, finance, and investments continue to display robustness and present potential investment prospects.

"The market outlook for the coming weeks appears cautiously positive. While challenges and risks persist, the overall economic environment remains favourable, supported by solid corporate earnings," he said.

Experts anticipate a forthcoming shift in investor preferences towards fixed-income securities as several counters enter the ex-dividend period.

Last week the market also experienced bullish movements as two counters experienced price gains.
Self-listed DSE led the gainers with a notable increase of 5.56 percent, closing at Sh1, 900 per share. Twiga Cement observed a gain of 0.49 percent per share, finishing the week at Sh4, 120 per share.

On the losing side, Swissport witnessed a decline of 8.54 percent in share price, consequently, it closed the week at Sh1, 500 per share.

Analysis by Vertex International Securities Ltd showed that in the secondary market, the investor's activities continue to surge surpassing Sh100 billion.

The weekly outlook by the brokerage firm showed that there were a total of 48 deals from the Treasury Bond segment last week, recording a turnover of Sh191.63 billion.

Most Turnovers were contributed by the 20-Year Treasury Bond recording 62.08 percent of the market turnover, followed by the 25-Year Bond recording 23.13 percent, and the 10-Year Bond 10.98 percent.