Wellworth Hotels pumps $18 million in a five-star hotel in the Serengeti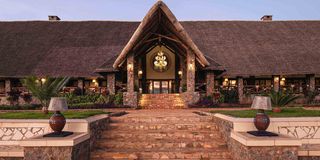 What you need to know:
With its traditional, elegant architecture and furnishings reminiscent of the early 1920s, the hotel would have 75 luxurious residential units
Serengeti. A local company with substantial investments in the hospitality industry is investing $18 million (Sh41 billion) in constructing a five-star, luxurious hotel in the Serengeti National Park in its latest bid to tap into a growing leisure travel market.
Wellworth Hotels and Lodges Ltd, with a chain of lavish hotels on Tanzania's mainland and Zanzibar, is currently developing a state-of-the-art five star hotel in the Serengeti as it seeks to unlock the tourism potential in the northern tourism circuit.
With its traditional, elegant architecture and furnishings reminiscent of the early 1920s, the hotel would have 75 luxurious residential units with the capacity to accommodate 150 high-end tourists.
Wellworth Group of Companies Director, Zulfikar Ismail says the five-star hotel, which will be operational in the first quarter of 2024, targets locals and foreigners who are after exclusive luxury coupled with unparalleled landscape and wildlife views.
Mr Ismail who is also the owner of Wellworth notes that the project seeks to transform the entire northern tourism circuit of Tanzania into a leisure travel hub for high-end local and foreign holidaymakers.
"We are using traditional African environmental-friendly building materials on our hotel, not only to avoid disturbing nature but also to offer the tourists a truly nature-based ambiance," Mr Ismail says, adding that some of the most magnificent sunsets can be enjoyed from the terraces of the hotel.
He adds, "Whether you like to relax or to enjoy the serene and vastness of the Serengeti plains in one of our 75 comfortable and well-appointed bungalows, it is just one step out of your bed where wildlife will greet you with their smile".
Themed around traditionally circular African houses with special roofs and decorated with Africa's woodcarvings and sculptures, the lodge harmonises perfectly with its spectacular surroundings.
"So our investment as Tanzanians, among others, intends to complement efforts by the government under President Samia Suluhu Hassan in stimulating tourism growth to achieve five million tourists and $6.6 billion in earnings in 2025," Mr Ismail noted.
Billed as one of the world's most exclusive and luxurious hotels with an array of leisure amenities, the Lake Magadi Serengeti promises the ultimate African accommodation experience for high-end tourists while viewing bigger game around the hotel.
The Wellworth Hotels and Lodges Ltd, is one of the prominent companies running a number of top-notch hotels, namely Kunduchi Beach Hotel, Zanzibar Beach Resort, Tarangire Kuro Tree Tops Lodge, Lake Manyara Kilimamoja Lodge, Ngorongoro Mountain Lodge in Karatu, and Oleserai Luxury Camps in the Serengeti.
Tanzania National Parks (Tanapa) said Wellworth Hotels & Lodges Limited has been allocated the area through an official letter TNP/HQ/P.30/17 dated June 4, 2015.
The statement signed by the Senior Conservation Officer and Corporate and Public Affairs Manager, Ms Catherine Mbena, indicates that Wellworth Hotels & Lodges Ltd, was awarded an area at Lake Magadi Serengeti for the purpose of establishing a top-quality lodge after fulfilling all the requirements.
The custodian of 22 national parks said that the local investor has followed all the laid-down procedures and that the property currently under construction has ticked all the boxes as far as the park and the National Environmental Management Council (NEMC)'s regulations are concerned.
"The investor has acquired a property clearance certificate number EC/EIS/2435 issued by the NEMC on May 16, 2016, after having successfully undergone an Environmental Impact Assessment (EIA)," TANAPA said in a statement on Wednesday evening.