Diamond Platnumz, Zuchu and Rayvanny on TMA nominees list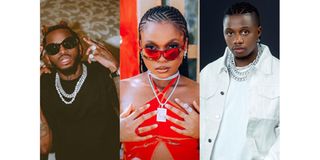 WCB CEO, Diamond Platnumz and his signee Zuchu are on the Tanzania Music Awards nominee list for the first time after a six-year hiatus, the awards ceremony is set to be held on April 29, 2023 at The Superdome Masaki, Dar es Salaam.
The 'Sukari' singer has been nominated in 'Best female Bongo Flava Singer of the Year', 'Best Bongo Flava song of the year', 'Best Music Video of the Year', 'Best Female Music Performer of the year', 'Best song of the year" and 'Best Female Musician of the year'.
From the numbers of categories, Zuchu beat Nandy who appeared in only two categories which are the 'Best Female musician of the year and Best Female Bongo Flava singer of the year.
However, the former WCB and Next Level Music label CEO Rayvanny brings diamond in the award through their collaboration 'Nitongoze' nominated as 'Best Collaboration song of the year'.
Apart from that, Rayvanny nominated for the 'Best Music Video of the year' Best Male musician of the year' and 'Best song of the year'.
The announcement was made on April 6, 2023 at Dodoma where the Minister of Arts, Culture and Sports, Ms Pindi Chana opened the voting of the nominees that will take place from Saturday, April 8 to April 28.
"The next step is now to vote for the artists who are running for nominees in the selected categories. So, Tanzanians, now let's stay in that position to see who we should vote for. We will spend about three weeks voting," said Chana.
Commenting on that, she says the voting process will be of two ways, using the digital way and short message.
"We will have a digital system through a link, as known Tanzaniamusicaward.info and the second way will be to use the SMS method, we want every Tanzanian to have the right to participate. The number is 0733899765. So I urge you to come out in large numbers to vote for the selected artists," she added.
Here are the full nominees of 2022 TMA
Best Male Hip-hop of the year
Puuh - Billnass ft. Jaymelody
One Call Away - Country Wizzy
Tawile - Fid Q ft. Rich Mavoko
Tanzanite - Joh Makini ft. Jay Rox
Best Female Hip Hop of the year
Witirialdo - Witness Kibonge Mwepesi
Bibi Titi Vol. 1 - Trixy Tonic
Best Hip Hop song of the year
Best Female Bongo Fleva Singer of the year
Best Male Bongo Fleva Singer of the year
Naogopa - Marioo ft. Harmonize
Best Bongo Fleva Song of the year
The Kid You Know - Marioo
Love Sounds Different - Barnaba
Street Ties - Conboi Cannabino
Best Music Video of the year
Mwambieni - officialzuchu
Pita Huku - dullamakabila
Best Music video director of the year
Tunagombania Nini - Ochu Sheggy
Best Bongo Fleva Music Producer of the Year
Best Collaboration Song of the Year
Sayuni - barnabaclassic ft. joellwaga
Champion - kontawaa ft. harmonize
Naogopa - marioo ft. harmonize
Demu Wangu - mejakunta ft. mabantu
Nitongoze - rayvanny ft. diamondplatnumz
Best Male Musician of the year
Pita Huku – Dulla Makabila