Pandit speaks out on winning diplomatic golf for two consecutive years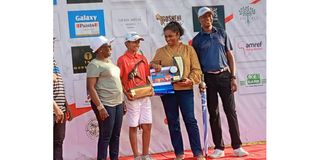 Shane Pandit, the young golfer from Arusha who for the second time in a row has won the annual International Golf Tourney held at the foot of Mount Meru, has said he is happy after he defended his crown.
"It was my biggest dream and I have been losing sleep over it, but thankfully I have managed to win the fifth round of the Diplomatic Golf after working very hard and studying the skills a lot," he said, shortly after being presented with a trophy.
"I feel very good for being champion again but also want to congratulate other participants and winners of the Diplomatic Golf and would like to thank Roy Safaris for supporting my participation," said Shane.
His father, Sanjay Pandit said he has been supporting Shane since  the young golfer was six and confident enough to play against adults.
Aged only 14, Shane is essentially a child, but has succeeded in shining above more than 120 golfers from 18 countries around the globe who teed off at the Kilimanjaro Golf course in Arusha, over the weekend.
Young Pandit amassed 88 stable-ford points and emerged the overall winner in the fifth round of the annual Diplomatic Golf. Previously also he won the fourth instalment of the tourney then aged 13 years in 2022.
The young golfer gets a full Safari Package to Tarangire National Park to be handled by Gosheni Tours, Four Tailor Made Golf Balls and a big trophy.
The winner of Ladies Silver Category in Diplomatic Golf 2023 was Khadija Selemani from Lugalo Club who recorded a handicap score of 67 stableford points.
Vicky Elias with 65 stableford points also from Lugalo in Dar-es-salaam was the first runner-up in Ladies Silver.
For the Ladies Bronze, it was Tanvi Banal with 82 points while the runner-up, Lucy Maina managed 80 points overall.
Division A' winner was Manraj Chadha with 75 points while the Division B' winner was Joseph Tango with 77 while Kassim Sawa was the Division C' winner with 68 points.
The NMB Bank was among the event supporters and the Manager of NMB Private Banking, Hilda Mung'ong'o said the financial institution saw the importance of promoting and supporting sports and especially Diplomatic Golf which helps children in need.
"It is part of our corporate social responsibility," explained the NMB Manager.
One of the supporting firms was the Kili Mediair, the air taxi services which provides medical evacuation on Mount Kilimanjaro for climbers, porters and guides as well as providing treatments.
"This was Kili Medair's first time support to Diplomatic Golf having been attracted by the tourney's mission to help the children in Tanzania," said the Marketing officer, Peter Sarakikya.
Event coordinator Reinafrida Rwezaura from the Songea Mississippi Foundation said as usual this year's Diplomatic Golf is held in 'Support Children living in difficult conditions.'
"We always wanted to attract more international golfers and this has been achieved, plus the mission of raising funds for children has also been successful because this year we have managed to raise 15 million/-," said Reinfarida.
The events staged on 36 -holes Kiligolf course, involving more than 120 golfers from Kenya, Spain, Dutch, Denmark, India, German, South Africa, England, USA, China, Zimbabwe, Sweden and Tanzania are involved in a race for the event's top diadem.