Sections cheer as Algerians beat 'us'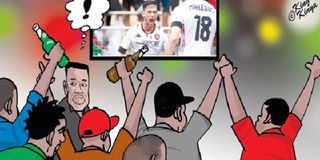 What you need to know:
Yanga fans went wild in jubilation, like the match was over with a win for them!
At Sinza's Mwika Bar in Kinondoni District, besides partaking of a Kasichana which I dilute lots of water, I'm watching the first round of the African Confederation Cup (CAF) final taking place at Kwa Mkapa.
Bongo's Young Africans SC aka Yanga are playing Algeria's Union Sportive de la Medina d'Alger (also known as USM Alger or simply, USMA).
Upon my arrival, I find the expansive bar hall full to the brim.
Some fans-cum-drinkers are watching the game while standing behind a low wall separating the bar from the car park.
I settle close to one of the three huge TV screens, which is okay by me since I'm somewhat short-sighted. The age thing, you know!
This match is historic, not just for Yanga, but for Bongo at large.
Why, the last time a team of our land participated in the CAF finals was 1993, when Simba SC played Cote d'Ivoire's Stella Adjame.
The Ivorians beat Simba, but so what? They participated in the final!
This time around, it's Hurrah Yanga! But as expected, fans of Yanga's arch rivals—Simba—haven't been happy.
They were being mocked at every turn because they had been kicked out at the quarter finals stage. Be it in pubs, on the streets, at homes, in public transport—Simba fans were the butt of all manner of cruel jokes.
It's no wonder they wished that Yanga get whacked at the semis. They weren't.
"But Yanga are in the final because they were lucky to play very weak teams!" Uncle Kich has been telling anybody who cared to listen.
Ndugu Esaya was also dismissive of Bongo's CAF finalists. In any case, he argued, "his" team, Simba, beat them 2–0 in the April 14 Dar es Salaam Derby
USM Alger enjoyed a "warm reception" in Dar courtesy of Simba fans. At this Sinza Bar, you should've seen how Simba fans cheered when, on the 32nd minute, the Algerians scored their first goal.
Come the 82nd minute, and Yanga, through their striker Fiston Mayele, netted an equaliser. Yanga fans went wild in jubilation, like the match was over with a win for them! Even before their cheering stopped—in the 84th minute—the Arabs got their second goal. Wild cheers again from Simba fans filled the bar hall!
Reports from my neighbourhood came via my mobile phone, showing how the likes of Tibu were agog, singing and dancing madly in praise of USM Alger.
"We'll have peace now…the Utopolos (a not-very-flattering a.k.a. for Yanga) have been silenced…they won't mock us further..." says Tibu when he visits my homestead next morning to share his joy over Yanga's humiliation with a clansman who, like him, is a Simba Damu.
Only in Bongo, if you ask me!