How Geita Gold Mining Limited is developing its people and the local community
Geita Gold Mining Limited is an independent, global gold mining company with a diverse, high-quality portfolio of operations, projects and exploration activities across nine countries on four continents. GGML has been operating in Tanzania since 2000 and is one of the largest and most compliant taxpayers in the country.
The company employs over 6,400 people, both directly and through contractors, of whom approximately 98% are Tanzanian nationals. GGML recognises that its employees are the company's most valuable asset and strives to provide them with a safe, healthy and conducive working environment, as well as opportunities to learn, grow and advance professionally.
GGML strongly believes in the importance of its employees to the success of the company. This is also reflected in the values of AngloGold Ashanti, GGML's parent company, which are based on the motto "Your Voices, Our Values." The company has implemented numerous initiatives to develop its people at all levels, from entry-level and graduates to middle managers and executives, and to promote succession planning to bring more Tanzanians into leadership positions and reduce reliance on foreign expertise. GGML also invests in Corporate Social Responsibility (CSR) projects that promote employment growth and skills development for people in the local community.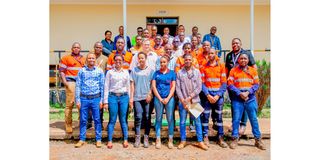 GGML has a robust training and development system that covers all aspects of its operations and functions. The company regularly trains its employees in areas including technical skills, safety standards, environmental management, quality control, compliance and ethics, among others. The company also supports its employees in further education and professional development through scholarships, study leave and tuition reimbursement. In addition, GGML for middle management and senior executives.
GGML has been a strong supporter of the government's initiatives to enhance graduate employability in Tanzania and has been running internship and other graduate programmes for several years. GGML offers internships for students in various disciplines such as engineering, geology, finance, human resources, environment, health and safety, community relations and communications. Through the internships, students gain practical experience and insight into real work situations in a mining environment. The internships also serve as a talent pipeline for GGML, as some interns are offered permanent positions upon completion of their studies. In 2022, GGML offered internships to 66 students from various institutions whereas this year the company has offered 50 internships.
GGML is a proud sponsor of the Female Future Programme (FFP), a leadership development programme for women coordinated by the Association of Tanzania Employers (ATE) in collaboration with ESAMI College. The programme aims to equip women with leadership skills and confidence to take up senior positions in their organisations and contribute to the economic development of the country. A total of 73 women have enrolled in the 9th cohort of the FFP, which started in March this year, with five coming from GGML. The company also supports other initiatives to promote gender diversity and inclusion in the workplace, such as mentoring, coaching and networking.
One of the many learning opportunities GGML offers its employees is the MBA Graduate Programme, which was launched in collaboration with the Eastern and Southern African Management Institute (ESAMI) and has proven beneficial to the company's middle managers. The programme is delivered by external facilitators from renowned institutions  such as ESAMI College and Strathmore Business School and covers topics such as strategic management, financial management, project management, change management, team building, communication skills and emotional intelligence therefore, participants learn from some of the most respected figures in the field. It contributes to their professional development as they can strategically develop their entrepreneurial mindset and learn a holistic approach to business.
GGML has a clear succession planning process that identifies employees with high potential and prepares them for future senior roles within the organisation. The process involves talent identification, performance appraisal, career planning, coaching and mentoring, feedback and recognition. The company also has a localisation plan that aims to increase the representation of Tanzanians in senior management positions and reduce dependence on expatriates. As a result of these efforts, GGML has achieved a localisation rate of over 80% at the senior management level.
GGML is not only committed to developing its own people but also to contributing to the social and economic development of the communities surrounding the mine. The company has implemented various Corporate Social Responsibility (CSR) projects that promote employment growth and skills development for people in the local community.
Local entrepreneurs in the Geita region have greatly benefited since the signing of a capacity building programme in July 2020 between GGML and the National Economic Empowerment Council (NEEC). GGML has long received positive recognition for its efforts to support the host community, and this initiative has really boosted the fortunes of local entrepreneurs
Apart from the fact that GGML started its local content initiative as early as 2014 (four years before the Local Content Regulations came into force ), there has been an increase in the number of Tanzanian businesses that have been successful in tenders for the supply of goods and services. The capacity building programme led by NEEC and GGML has helped many businesses in the Geita region, including youth, women, and people with disabilities, sharpen their business acumen.
In 2022, at the 46th International Trade Fair in Dar es Salaam, better known as Sabasaba, GGML won both the Best Employer and Best Exporter of Minerals Abroad awards. The company was also recognised as a leading taxpayer, taking second place. In addition, GGML was also recognised for its compliance with Workers' Compensation Fund (WCF) procedures at the annual fair.