How to increase domestic cooking oil production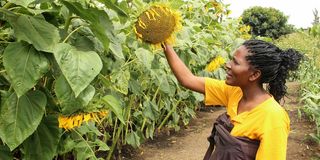 What you need to know:
More use of local hybrid seeds, easy access to loans, and subsidised inputs can help boost production
Dar es Salaam. Edible oil stakeholders have suggested ways of increasing the domestic manufacture of cooking oil to reduce imports and save foreign currency.
The proposals include strengthening the use of local hybrid seeds, reforming policies, and restructuring the Tanzania Agriculture Development Bank (TADB) in order to increase access to loans directed to farmers.
Others are strengthening research on modern seeds, providing subsidised inputs, and increasing investment in the construction of irrigation infrastructure.
Stakeholders' opinions were prompted by low cooking oil production, as revealed by recent government statistics, which indicate that 205,000 tonnes of cooking oil were domestically produced by March this year.
According to the government, out of the total amount, 180,000 tonnes were sunflower oil, while the remaining 25,000 tonnes came from palm and cotton seeds.
Tabling the 2023/24 budget in Parliament, Investment, Industry, and Trade Minister Ashatu Kijaji said the amount was produced by 771 local factories, which included 21 medium- and large-scale factories and 750 small-scale plants.
"Small-scale factories use 20 percent of installed capacities only, while medium- and large-scale plants use between 25 and 40 percent of commissioned capacity," she said.
"The factories' low production is attributed to the lack of enough oil seeds for processing cooking oil that were available in just four months of the year," said Dr Kijaji.
She said the annual total demand for cooking oil stood at 570,000 tonnes, adding that 365,000 tonnes had to be imported to meet the requirement.
The Bank of Tanzania (BoT) Monthly Economic Review (MER) for May 2023 shows that the value of edible oil imports increased to $161.6 million in April 2023 from $153.6 million in the same period of 2022.
However, sunflower seed production has been on the decline in the last couple of years, according to Agriculture Ministry statistics.
Statistics contained in 2023/24 ministry's budget show the amount of produced sunflower seeds and respective years of production in brackets in the past five financial years: 543,262 (2017/18); 561,297 (2018/19); 649,437.3 (2018/19); 478,900 (2029/20) and 425,653.1 (2021/22).
However, the Tanzania Sunflower Processors Association (Tasupa) chairman, Mr Ringo Iringo, said 2.5 to three tonnes of sunflower seeds were required to produce one tonne of edible oil.
He said in order to increase edible oil production, Tanzania should enhance the use of local hybrid seeds said to be resistant to climate change and pests.
"The government should reform policies and TADB's structure in order to attract loans for the country's agricultural transformation," he said.
A sunflower farmer from Manyoni District in Singida Region, Mr Elifadhili Nsaningu, suggested increased investment in research for improved seeds.
"TADB should increase disbursement of low-interest loans to support agricultural reforms, provide subsidised inputs, and increase investment in the construction of irrigation infrastructure," he said. "Local processors should be protected cheap imports," Nsaningu said.
Nsaningu added that traditional seeds were less resistant to climate change, invasions of pests, and diseases, and that the sector hasn't attracted commercial farmers.
Processors were facing the challenges of multiple taxes, the absence of investment banks, bureaucracy in loan processing and disbursement, high interest rates charged by financial institutions, and an influx of smuggled goods, he further noted. Mr Mahenya Muya, a farmer from Dodoma Region, told The Citizen that the country needs to have commercial farmers with an average of 500 to 1,000 acres.
"The establishment of block farms will probably reduce the challenge; however, farmers' efficiency should be increased to enhance crop yields per acre," he said.
He said the country was facing the challenge of poor extension services, noting that farmers should be taught how to increase agricultural productivity.
"The government should protect farmers by attracting better prices through the trading of sunflower seeds, something that will increase banks' confidence in investing in agriculture," he said.
He said price stabilization funds should be provided to protect farmers from price fluctuations, insisting that better and more enforceable policies and laws should be formulated and enacted.
Edible oil processor, Mr Enock Ndondole, said, "The shortage of raw materials is supposed to be an opportunity for farmers to increase production. I don't point an accusing finger at anybody, but the production of seeds for cooking oil manufacturing hasn't been given an appropriate emphasis," he said.
He said the massive increment in the price of edible oil adversely affected the lives of ordinary citizens, noting that despite addressing the challenge, imports of the produce provided relief.
Furthermore, he said a significant and permanent solution could be provided by increasing the production of seed crops used for cooking oil manufacturing.
Dr Kijaji told the Parliament that the lifting of trade restrictions in some countries that produce and distribute bulk quantities of cooking oil on the world market has led to a decline in the price of the product.
She said in the period between July 2022 and March 2023, the price of sunflower oil declined from $1,491.30 per tonne to $1,088.10 per tonne which is equivalent to a 27.03 percent decline.
"The price of palm oil also declined from $1,776.96 per tonne in March 2022 to $975.63 per tonne, which is a 45.09 percent decline," she said.
Tabling the 2023/24 budget in Parliament, Agriculture Minister Hussein Bashe outlined the government's strategies to protect farmers producing edible oil and manufacturing seeds, including proposing the reinstatement of the 35 percent import levy on imported refined cooking oil.
He said the proposal has been submitted to the ministry of Finance and Planning by the ministry through the Cereals and Other Produce Regulatory Authority (Copra).
"This follows the truth that reducing the tax from 35 percent to 25 percent in 2022/23 adversely affected oilseed cultivation in the country," he said.
"Therefore, in order to protect farmers cultivating edible oil seeds in the country, the ministry of agriculture proposes the restoration of a 35 percent levy on imported refined cooking oil," he added.
Furthermore, he said an individual or a company that doesn't deal with locally processing cooking oil products will not be allowed to import the produce under the Copra arrangement.
Improved seeds and irrigation infrastructure
He said in 2023/24, the ministry, through the Tanzania Agriculture Research Institute (Tari), with the collaboration of the International Fund for Agricultural Development (Ifad) and the Alliance for a Green Revolution in Africa (Agra), will produce 186 tonnes of basic seeds.
The project will involve the construction of irrigation infrastructure on a 15-hectare farm at Tari Ilonga Centre.
He said that through the collaboration of Tari, Agra, and the Agricultural Markets Development Trust (AMDT), Tanzanian companies will be enabled to produce sunflower seeds in efforts to increase production.
"The ministry will continue distributing 5,000 tonnes of subsidised sunflower seeds in the 2023/24 season and 15,000 tonnes in 2025/26," Mr Bashe said.
Pest, disease, and weed control
According to him, Tari will research pests and diseases attacking sunflowers as well as carry out studies to prevent and control weeds in sunflower farms in a participatory way.
"Tari, in collaboration with Agra, will provide training to improve the production of better sunflower seeds to 306,600 stakeholders and seed producing companies," he said.